Microsoft Cognitive Services brings cloud AI to the enterprise
Like other cloud-based offerings, Cognitive Services in Azure makes AI more accessible to the enterprise. Pricing and integration, however, can still be a challenge.
Cloud services are a critical enabler of AI in the enterprise. For Azure users, a suite of offerings called Microsoft...
Continue Reading This Article
Enjoy this article as well as all of our content, including E-Guides, news, tips and more.
Cognitive Services plays that role.
Artificial intelligence as a service eliminates the need for organizations to build the expensive and specialized infrastructure required to execute machine- and deep-learning algorithms. It also allows developers to use the same back-end code to provide AI features to Windows, iOS, Android and browser clients.
Most major cloud providers have a growing suite of AI-based capabilities, and Microsoft Cognitive Services is currently one of the largest. Here's an overview of the key features, integration options with other Azure services and usage scenarios.
What's inside the Microsoft Cognitive Services portfolio?
Like most AI products, Microsoft Cognitive Services focuses on image, speech, language and unstructured data analysis. The portfolio has over two dozen services, associated APIs and software developer kits (SDK) organized into six categories:
Vision: Functions for image analytics, object identification and facial recognition;
Speech: Services to transcribe spoken words and translate text to other languages;
Language: Services to analyze natural language, including spell checking, sentiment analysis and parsing text for metadata and logical sections or breaks;
Knowledge: Functions to analyze and map data to discover relationships and patterns for tasks such as recommendations or query autocompletion;
Search: Services, including image and news search APIs, that integrate with the Bing search engine; and
Labs: An assortment of experimental services still under development, including those for gesture-based controls, map routing and logistics, route and distance optimization and location-based analytics.
As major vendors look for ways to differentiate in the cloud, artificial intelligence is at the top of their lists. Microsoft Cognitive Services has a new array of APIs to make it easier to scan text, video and audio data and to bring intelligence to a variety of mediums.
Enterprise usage and applications
Unlike many cloud services, such as compute instances, object storage or databases, that mimic existing enterprise IT functions, Microsoft Cognitive Services is meant to enable entirely new application types -- not host existing ones. Most of these involve the analysis of previously intractable forms of data, such as photos, videos, speech, locations and unstructured text. As a result, the usage scenarios for AI and machine learning are highly dependent on an organization's business, its available data sources and the creativity of its staff.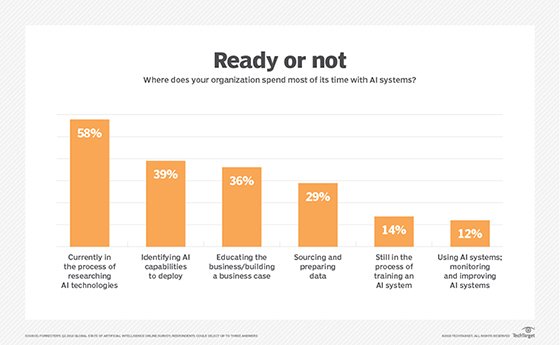 Some examples of organizations that use Microsoft Cognitive Services include:
A Dutch furniture store uses the Recommendations API to provide recommendations to customers, such as items frequently bought together or suggestions based on past order history.
One company employs Microsoft's Computer Vision, Face and Emotion APIs to automatically extract metadata from a variety of unstructured content, including text, images and videos. The company can scan videos and tag those in which individual faces show emotions, such happiness, sadness or surprise.
Uber uses the Face API to verify that the driver is the same person it has on file for that driver account.
As these examples suggest, sales enablement, customer relationship management, security, conversational UIs and image/video analysis are fertile areas for Microsoft Cognitive Services.
Learning curves and potential challenges
The learning curve for Microsoft Cognitive Services is minimal for developers already familiar with building cloud applications, and those who are unfamiliar can integrate Cognitive Services with Azure Logic Apps with minimal coding.
Still, these services aren't without their challenges. For example, it can be difficult to connect cloud-based applications with internal data sources, whether they reside on central databases or are distributed across remote systems and sensors. Implement a hybrid network and data integration strategy before you deploy production AI applications. Developers should also use Microsoft's free service tier to become familiar with the AI services, APIs and SDKs and to build and test applications.
Pricing and availability
Microsoft typically bills for its Cognitive Services based on the number of API calls per service per month. However, given the diversity of services and the way in which enterprises use them, pricing can get confusing, especially as there are several pricing models at work:
The Emotion, Face, Language Understanding Intelligent Service, Bing Speech-to-Text and Bing Text-to-Speech APIs are billed per 1,000 production API transaction calls, as distinguished from a dev/test pricing tier, where a limited number (typically 1,000) of transactions are included at no charge.
The Bing Long Form Speech API service is billed per hour (prorated per minute) of analyzed speech.
The Recommendations and Text Analytics APIs have a fixed price for a set number of transactions based on four tiers, with overage charges for exceeding the quota.
Organizations can test each of these services via a free tier that provides a limited number of transactions per month, with usage throttled for exceeding the limit and no overage fees. Use Azure's online pricing calculator to estimate charges based on particular application requirements.
Microsoft Cognitive Services is only available in a small subset of Azure regions. Most services are available in the West U.S. or are nonregional with no data center dependency. Some are also available in the West Central and East 2 U.S. regions, along with West Europe and Southeast Asia.
Dig Deeper on Building vs. buying AI