agsandrew - Fotolia
How IBM Watson, cognitive analytics will impact IT jobs
IBM Watson continues to push the envelope for what can be done with technology and some fear the cognitive computing system will push IT pros out of a job.
ORLANDO, Fla. -- IBM Watson's cognitive analytics capabilities can take businesses to the next level, but some...
Continue Reading This Article
Enjoy this article as well as all of our content, including E-Guides, news, tips and more.
fear it could take some IT jobs as well.
IBM CEO Ginni Rometty tried to quell that concern here at the Gartner Symposium/ITxpo this week, as Big Blue unveiled its new IBM Cognitive Business Solutions group, which employs 2,000 consultants to help businesses take advantage of cognitive analytics.
Artificial intelligence (AI) is not about replacing workers, but "it is about augmenting what man does," Rometty said. Data is doubling in every industry every two years and there is no way to keep up, she said.
"We are going to come to a time where this is going to help us do things we couldn't do," she said, later adding it could also help workers perform their jobs better.
Indeed, workers must become more sophisticated, and the Watson supercomputer -- or something like it -- will augment workers, said Louis Storms, CTO for global business at EDF Trading in Houston.
Fundamental energy traders already use deeper analytics and more technology than ever before, something that will continue, he said. Cognitive analytics can also be used in the energy trading business, and could help predict energy demand and prices.
"Plus, you need to be able to predict the weather to do any of this," he said.
As cognitive analytics becomes more pervasive, new IT skills and IT jobs will be created, according to Rometty, who discussed Watson with Daryl Plummer, an analyst at Gartner Inc., based in Stamford, Conn., who conducted a 45-minute sit-down interview with her in front of about 5,000 IT pros here.
When asked about the new jobs and emerging skills, about 20% of the people in the room said their organization is hiring data scientists. Eventually, all workers are going to have data and data science skills.
"It is going to be pervasive," she said.
Watson will allow companies to offer services they weren't able to provide previously. For example, Banorte Bank in Mexico can use the efficiencies created by Watson to redeploy resources toward services such as retirement planning for lower-income customers and others that it couldn't provide the services to previously, she said.
"You begin to create whole new sets of jobs," and individual jobs become more important, she said. "It extends your reach and the kinds of people you need."
She said some jobs, such as a repair person, could use cognitive analytics to serve as a "concierge," with the ability to make predictions.
"There will be some things that will be replaced, but many other things will be opened -- time has proven that over and over again," she said.
Plummer said he hopes new jobs will be created, but expects IT job losses.
"I'm not buying that we won't lose a lot of jobs," he said.
Many of the users who heard Rometty speak said they see some sort of role for technology such as Watson, and also said they see jobs changing with or without AI.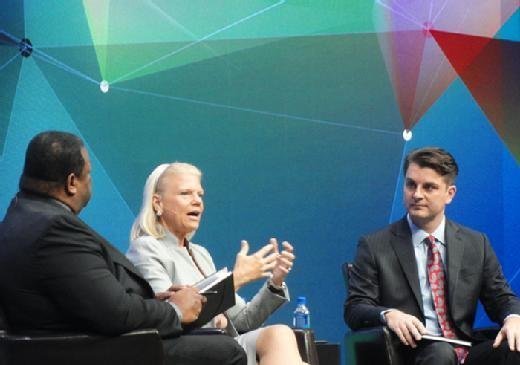 The healthcare sector has put Watson to use in helping doctors make better decisions.
"We're one of the companies that has been working with Watson for several years," said Patrick Carragee, vice president of IT at Memorial Sloan-Kettering Cancer Center in New York.
He said the cancer hospital has more data scientists than many other organizations, and many are outside the IT department.
"I don't see the programmers going away; I see them become part of teams building common knowledge," Carragee said.
Technology, such as Watson, will be able to help mine unstructured data to help doctors make better decisions faster, he said.
Michael Kaufman, senior manager of IT procurement at Capital One in Richmond, Va., said technology such as Watson may not eliminate jobs, but he has already seen many of the traditional IT roles evolve, as his company does more cloud computing.
"We're going to be investing in more doers and more developers," he said.
However, cognitive analytics tools don't work well without cognition behind it, and IBM cannot build a one-size-fits-all technology.
"I'm torn on Watson; I don't see Watson as the end all and be all," Kaufman said. "You still need a strong skill set behind the tools."
Bob Gates is a news writer with TechTarget's Data Center and Virtualization media group. Contact him at [email protected].