bas121 - Fotolia
News
Stay informed about the latest enterprise technology news and product updates.
Google enters mortgage space with new Document AI tool
Google's new Lending DocAI product can help users automate mortgage document processing. The product is Google's first specialized mortgage tool.
Google entered the mortgage market with Lending DocAI, an industry-specific system to automate mortgage document processing. Powered by Google Cloud's OCR and natural language, Lending DocAI uses specialized models to automate routine document reviews.
The product, introduced Oct. 19, is essentially a mortgage-industry dedicated version of Google Document AI, a more general tool for extracting data from documents.
AI in the mortgage industry
The mortgage industry is paper- and document-intensive, said Kashyap Kompella, CEO of industry analyst firm RPA2AI. The industry is beset by old print and software systems that don't connect to each other. It's a challenging field in which to deliver a superior customer experience, Kompella said. Lending DocAI and other similar products in the market are aimed at smoothing that customer experience.
Google's Lending DocAI, according to a Google blog post, processes borrowers' income and asset documents to speed up loan applications. It can streamline data capture in key mortgage processes, including document verification and underwriting.
Still, Forrester Research analyst Kjell Carlsson said, it's essential to understand that Lending DocAI and similar products do not automate everything.
While they work well at digitizing many portions of the document, the more they input variation -- such as scanning quality, formatting and topics -- the harder it is to automate.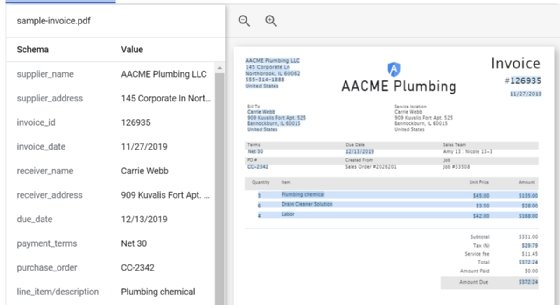 It's unlikely, then, that enterprises will be able to remove humans entirely from the process. However, document automation tools can save enterprise employees time and increase the accuracy of document processing, Carlsson said.
"Companies expecting solutions to automagically extract valuable insights from their archives of historical documents with minimal human guidance and supervision are going to be sorely disappointed," he said.
Similarly, Kompella noted that Lending DocAI and similar products generally work well when documents are in structured or semistructured formats but can struggle with less structured data.
"The problem with these really is that they are point solutions and help automate a part of the larger workflow and not end-to-end solutions," Kompella said.
Industry-specific products
Google only recently began releasing industry-specific AI products, including Google Cloud for Retail, launched last year.
While it's still a new strategy for Google, Carlsson said he expects it to work well.
"The biggest thing holding back enterprise use of AI is their lack of capabilities for building their own AI solutions and not enough commercially available AI solutions," he said. "Google has long provided AI services that companies could have used to build their own AI solutions -- but most don't have the spectrum of design, development, data science, data engineering, ops and change management capabilities to effectively consume those AI services."
Forrester analyst Mike Gualtieri added that enterprises generally want AI but often aren't confident enough to try new technologies. Specialized products such as Lending DocAI take some of the risks out of AI.
When former Oracle executive Thomas Kurian arrived at Google in 2018, Kurian changed "the GCP culture from cloud cluelessness to cloud clarity for enterprises that want but are [hesitant to get] AI technologies and solutions," he said.