Definition
IBM Watson supercomputer
Watson is an IBM supercomputer that combines artificial intelligence (AI) and sophisticated analytical software for optimal performance as a "question answering" machine. The supercomputer is named for IBM's founder, Thomas J. Watson.

Download this free guide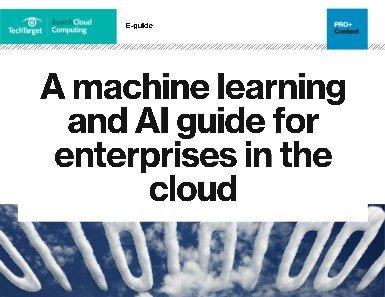 Free PDF: A machine learning and AI guide for enterprises in the cloud
Download the PDF version of "A machine learning and AI guide for enterprises in the cloud".
The Watson supercomputer processes at a rate of 80 teraflops (trillion floating-point operations per second). To replicate (or surpass) a high-functioning human's ability to answer questions, Watson accesses 90 servers with a combined data store of over 200 million pages of information, which it processes against six million logic rules. The device and its data are self-contained in a space that could accommodate 10 refrigerators.
Watson's key components include:
Applications for the Watson's underlying cognitive computing technology are almost endless. Because the device can perform text mining and complex analytics on huge volumes of unstructured data, it can support a search engine or an expert system with capabilities far superior to any previously existing. In May 2016, BakerHostetler, a century-old Ohio-based law firm, signed a contract for a legal expert system based on Watson to work with its 50-human bankruptcy team. ROSS can mine data from about a billion text documents, analyze the information and provide precise responses to complicated questions in less than three seconds. Natural language processing allows the system to translate legalese to respond to the lawyers' questions. ROSS' creators are adding more legal modules; similar expert systems are transforming medical research.
To showcase its abilities, Watson challenged two top-ranked players on Jeopardy! and beat champions Ken Jennings and Brad Rutter in 2011. The Watson avatar sat between the two other contestants, as a human competitor would, while its considerable bulk sat on a different floor of the building. Like the other contestants, Watson had no Internet access.
In the practice round, Watson demonstrated a human-like ability for complex wordplay, correctly responding, for example, to "Classic candy bar that's a female Supreme Court justice" with "What is Baby Ruth Ginsburg?" Rutter noted that although the retrieval of information is "trivial" for Watson and difficult for a human, the human is still better at the complex task of comprehension. Nevertheless, machine learning allows Watson to examine its mistakes against the correct answers to see where it erred and so inform future responses.
In an interview during the Jeopardy! practice round, an IBM representative evaded the question of whether Watson might be made broadly available through a Web interface. The representative said that the company was currently more interested in vertical applications such as healthcare and decision support.
See also: Turing test, real-time analytics, health IT, Blue Gene, business analytics
See an introductory video on how Watson works:
Continue Reading About IBM Watson supercomputer